Hi my dearest readers, things have changed in the past months. We are all anxious and stressed in this pandemic situation. And to distress myself from the said situation, I try to do something before the day ends in order for me not to think about the pandemic. So for me, the best way to kill time is to watch some series and I find it fascinating to know about the Thai dramas that are new to me. The world of lakorn blogging is small, not in the sense that everyone knows everyone, but that it's literally few and far in between. We should gather a list of lakorn related blogs (in English) that you visit every day, blogs you simply adore. Perhaps they are not one and the same, but I think it's important to share the love and spread the love. Because writers write to be read, and to be heard.
They are known in Thai as lakhon thorathat, lit. "television drama" or lakhon, pronounced [la. kʰɔːn], or lakorn. Lakorn is a popular genre of fiction in Thai television.
What better than watching Thailand Dramas that have unique subject matters with great romance for you to enjoy. There were many great Thai Dramas to choose from but a few good shows really caught my attention that kept me entertained. From complicated love stories that moved me into tears to murder mysteries that kept me guessing. I specially compiled a list of my top 5 personal favorites. Do not miss them or else you will regret it. Be sure to check them out.
No. 5 – Bai Mai Tee Plid Plew | Also Known As: The Fallen leaf
Genres: Romance, Melodrama
Episodes: 21
Actors:  Push Puttichai Kasetsin; Baifern Pimchanok Luevisadpaibul
Drama Introduction
Nira is like a young leaf, which is always there beside the flowers but will never be one of them. Her name, Nira, derives from Niranam which means the anonymous one. The story of a boy who is a little girl at heart, he is shattered from not being accepted by anyone but his mother who wholeheartedly loves him. His father is not a very good man, as he loathes him and mistreats his mother. Nira wants his father to be like his uncle-in-law Chatchavee, the only one aside from his mother who is a warm man and cares for him and understands him. Until the forbidden love occurs, Chatchavee happens to notice and cannot answer back this aberrant love, he denies Nira. Nira, deeply crushed and traumatised by this rejection, decides with his mother's support to do something that changes the rest of his life. He undergoes a sex reassignment surgery which completely transforms him into a gorgeous woman. Unfortunately, her mother dies during the operation. Devastated, she runs away from the hospital. The one who finds her and helps her is doctor Benjang, who takes her home. She starts living as his sister.
One day, Nira coincidentally meets Chatchavee. Due to her beauty, he starts to fall for her and also Nira's father. None of them recognise her. The tragedy of love begins to be more and more complicated when Nira's aunt, who always looks down on Nira's love and is envious of her, discovers the truth and tries to hinder Nira in every way. How will this story end? 
No. 4 – Game Sanaeha | Also Known As: Game of Love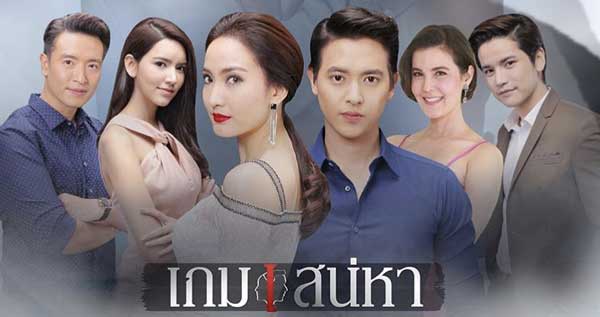 Episodes: 14
Actors:  Natapohn Tameeruks; James Jirayu Tangsrisuk
Drama Introduction
Within two years Muanchanok (Nok) studied abroad, and her parents got divorced. Her father remarried to a former beauty queen who had the same age as hers, while her mother also flirted with several younger men. The effects of a broken family made her become jealous, ill-tempered and obsessive into getting her parents back together.
Lakkhanai (Nai), a distant relative of Nok's mother, who grew up along with her, is a very capable man who was enjoying a top position in her father's company. He also started living at her house, which made her more furious and she wanted to eliminate him from her family.
When Nok and Nai were forced to get married, she planned and played the game of love to hurt him. But Nai's feelings for her were sincere all along.
Genres: Drama
Episodes: 16
Actors: Mik Thongraya; Pooklook Fonthip Watcharatrakul
Drama Introduction
Maysarin is a famous socialite who's engaged to Sarut, but he left her on the day of the wedding. Kadethaen is a 30 year-old real estate businessman who's waiting for Pinmanee, his bride at the reception of a luxury hotel, but he saw her escape the wedding with another man. Kade walked out to a party at the beach, where he met May, who was still in her wedding dress drinking alone. They started drinking together and people thought they were a couple, so they went along with it and he jokingly proposed to her. Afterwards, they went back to the hotel and spent the night together.
In the morning, May regrets what happened and wants to forget about Kade, but he's not going to give up on her.
No. 2 – My Husband in Law | Also Known As: Secretly in Love with My Husband
Genres: Business, Comedy, Romance, Drama, Family
Episodes: 15
Actors: Mark Prin Suparat; Mew Nittha Jirayungyurn
Drama Introduction
Muey is a smart multi-talented young woman who receives an opportunity to live with her crush Thien, the wealthy son of her mother's friend. Several years have past living with him but Muey's crush has only deepened into love 
from being near Thien with her residing to love him from a distance. 
Thien has it all. He is smart, wealthy, good looking and a bit of a player. Despite having everything handed to be, he is hard working. He is not only completely unaware of Muey's feelings, he barely knows her even though she has been with him for over seven years. All he does know is that he enjoys thoroughly teasing and bullying her.
Unfortunately, Thien's player ways catch up with him, getting him into major trouble when he sleeps with the wife of a dangerous mobster. His mother, fearing for her son's life, forces him to get married to Muey in order to protect him. Muey only agrees for Thien's safety to marry him and the chance to be closer to him. While Thien is forced to agree against his own wishes but hopes to keep the whole thing a secret. How will these two fare off together when Muey begins working at the same company as Thien? Will  it be possible for Thien and Muey to fall in love under such circumstances? 
No. 1 – Dark Blue Kiss
Genre: Comedy, Romance, Youth, BL
Episodes: 12
Actors: Tawan Vihokratana; Thitipoom Techaapaikhun
Drama Introduction
Kao and Pete being in a blissful romance, have grown closer. But with Kao being closeted from his mother, he fears the dreaded thought of her finding out. His mother then introduces Non, a son of a colleague, as he requires tutoring from Kao. With Non constantly giving off 'iffy' vibes towards Kao, it only fuels Pete's jealousy. Their relationship is put in strain, but through this, they must ultimately overcome each other's flaws. They both blossom in their youthfulness coated by their everlasting fondness for one another. Surrounded by the wonder of dark blue, Pete and Kao surrender to their feelings.
Sun starts taking hints from his unrequited love and slowly gives up on Kao. Through this Mork happened to possibly comfort him. Whilst Sun pushes Rain to stay away from Mork, the younger man's uncontrollable behaviour brings him in. As his wildness is intriguing, Sun's seriousness holds Mork down somewhat. Underneath it all, the two start to care for each other. However, with Mork's dangerous life, he can't shake who he is. But maybe he can for someone like Sun.
Conclusion
These are just some dramas I recommend you to watch if you ever feel stressed and don't want to overthink. And one good thing for you as English students and non-Thai students, you definitely need to rely on English Subtitles to watch the show. There are plenty of Eng Sub clips available on Youtube. So, relax and the pandemic too, shalt pass one day.
This blog is written by Teacher Ryan. He has been teaching English for over 10 years. Let's take a look at his Introductory Videos below.
Teacher Ryan's Introduction Video