Hello guys,
How are you?
Due to Covid, many of us are stuck at the main cities without being able to travel somewhere far. However, there are many interesting places nearby us that could make our weekend amazing. Local tourism is on the rise all over the world. As the world is set to rediscover their neighborhood, our Vietnamese readers are in for a treat. Let's follow me today to explore Da Lat city – a place is just about 360kms from Ho Chi Minh. (For non-Vietnamese readers, you can read and save it to your visit-next list after Coronavirus :))
Introducing Da Lat

First of all, I would like to draw a picture of Da Lat in order to help you easily imagine about this city.  It's a small city in Lam Dong province surrounded with continuous mountain ranges.
People call this city "Little Paris of Vietnam" because of its French architecture. In 1893 doctor Yersin discovered Dalat when the General Paul Doumer needed to find a temperate land like Europe in other to set up resorts and sanatoriums. Nowadays visitors can spot a good number of well-preserved French villas and chalets throughout the city.
Pines trees are main plants in Da Lat, it creates a poetic scenery which visitors love to call by another name "City of thousands pine trees" or "The city of eternal spring". Indeed, look at those tall pine woods in the forest. Da Lat has year round cool weather from 18-21 Degree C. Its temperate weather stands in contrast to Vietnam's otherwise tropical climate. Mist covering the valleys almost all year-round creates a sense of mystery and make it attractive for vacationists.
How to get there?
The most convenient way is using sleeper coach.
Ads: you can use bookaway to book a bus ticket from Ho Chi Minh City to Da Lat
. Remember to enter "3DUNIVERSAL5" promo code to enjoy instant 5% discount when you book the tickets with bookaway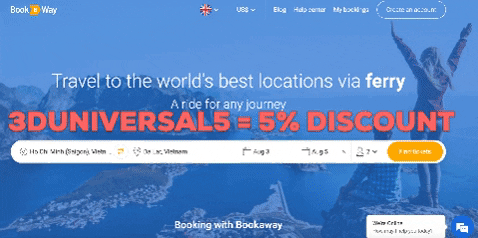 Locals usually use Phuong Trang and Thanh Buoi. Their buses operate every 30 mins about 12-16 USD / pax and they have free shuttle bus to pick you up to / from the hotels in Dalat.
For myself, I prefer to use The Sinh Tourist
Buy ticket at:  246 De Tham, District 1
Depart: once a day at 10:30 pm
Duration: 6- 7 hours
Cost: abt 12-16Usd
(Pls reserve the seat 1 or 2 week in advance because it's always fully booked for the weekends)
You can travel there by plane too:
Cost: from 50- 100 USD for return tickets
Duration: 45 minutes
Depart from Tan Son nhat airport
Arrive in: Lien Khuong airport
However, the airport is about 30 kms far from the city so you need to take a bus (about 2-3 USD) or taxi (15-20 USD) to move to the downtown.
Where to stay?
Hotel cost will fluctuate from 15- 25 USD with homestay style
Last trip I stayed in a nice hotel for 12 USD / night with a cool view from my room, here it is.
I recommend you to check on Agoda for more options
I often travel during weekdays and low seasons so I can check in early for free. In the low season, you can always request early check in with the hotel once you book and most of them would say yes.
What to eat?
I feel like the chill weather makes all foods in spiral smoke taste delicious. This website has all my favorite list, I tried them all and I would say it's totally good, check it out here:
Where to visit?
All of hotels offer motorbike renting service from 6-7 USD per day (plus 2- 3 USD for refueling) so rent yourself a motorbike to explore all the nice places in Dalat.
But please bear in mind that this place is made up of mountainous terrain. There are many sharp turns in some places so do not ride motorbike if you're not a good driver. Taxi service there is also popular and you do not need to worry they overcharge you by going the long way as all destinations are far enough 😀
We need to buy entrance tickets for most touristic spots, around 2- 12 USD depending on the places
If you are a selfie love,
I recommend you to visit these coffee shops and tourist area (click here to the link)
https://thaiest.com/vietnam/travel/amazing-cafes-with-best-view-in-dalat
https://saigonriders.com/beautiful-coffee-shops-reveal-most-of-dalats-culture-and-heritage/
https://bigseventravel.com/2019/09/instagram-dalat/
For people looking for peace and quiet
Sometimes I simply want to dress-up with warm clothes and hang around the streets with smell in flower, leaves and fresh air.
I usually go to Xuan Huong Lake, Tuyen Lam lake, Langbiang peak and Love valley to spend hours sitting there, reading books or simply seeing peoples goes fishing…I enjoy sightseeing in the poetic scenery especially when it's with drizzle. Click here to read more about these places
If you are adventure love
There is a list of falls which might interest you, click here to read more
Top trending lately
Recently I heard that Ma Rung Lu Quan homestay, Cu Lan village and Cau Dat tea farm become hot destinations of tourist.
Ma Rung Lu Quan Homestay offers visitors a getaway from the hustle and bustle of urban life. It features a lake and a variety of wooden houses
Cu Lan village sits by a clear stream, with the water's flow sounding like a murmured greeting to distant friends who stop to visit.
As review from communities, the road to go there is not easy and it's quite far from the city, about 25 kms so I actually haven't visited there yet.
Cau dat farm with an immense landscape of tea hill, clouds in the early morning, mountains, hills, and green pine forests, is a great place for couples to take wedding photos, also the perfect place for the youths to take selfie and check-in on Facebook. On the road going there by night, you might see the city sparkles with the light of the greenhouse as the view from my photo below:
What to buy?
I usually buy vegetables, avocados and teas.
Da Lat supplies fresh agriculture products for all over Vietnam. You also can find a wide range of mứt, a kind of fruit preserve that closely resembles varenie, made from strawberry, mulberry, sweet potato and rose there
Also there is a variety of woolen clothes for you to choose at Da Lat night market with good quality.
The best time to travel in Da Lat is Nov and Dec. You guys are always welcome to ask me anything. There are a lot of interesting I love in this city more than what I can write, so I hope you come to visit and experience by yourself then let me hear your story, have fun and see you soon guys.